Main Content
As many writers might know, National Novel Writing Month (NaNoWriMo) has encouraged novice and veteran writers alike to pick up their (likely proverbial) pens for more than a decade. Likely fewer of you know that Hybrid Pedagogy – a digital journal of learning, teaching, and technology – has created its own parallel event in Digital Writing Month (DigiWriMo).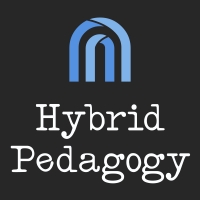 This episode of Hybrid Pod invites the coordinators for this year's DigiWriMo to discuss collaboration. The episode includes some great reflections on incorporating collaborative efforts into the classroom – whether online or off.
Kevin Hodgson on the importance of collaborative skills:
For students. I mean, that's an important skill. I look at my eleven year olds, I have no idea what the world's going to be like when they graduate from college, right? There's no way to predict it, but, collaboration, working with people in different time zones…clearly will be part of most of their futures. So that I give communication and laying out how that's going to play out…not just who's going to do what, but how are we going to go about doing this.
… and Maha Bali on incorporating collaborative learning into her classroom.
So in my particular case I like them to design an educational game about a cause that they care about. So after they've learned a little bit about playing games and reflecting on what makes a game good, and so on, they sit for one class and decide on what kind of causes they care about, before they decide on what kind of game they're going to do. And then, you know they start to develop the ideas of the game, and then they start to evaluate it for how educational it is…Designing the actual game, I don't care how they divide that. As long as they've thought about everything together, the execution is less important to me.
Take a half hour and listen to the full episode.
Recent Posts
April 7, 2020

May 7, 2019

March 20, 2019