Main Content
Everyone at the university has access to an instructional technology tool called VoiceThread.  It can be used create multimedia presentations, but what sets it apart from other presentation creating tools like Camtasia or Adobe Spark is that it lets you have a conversation with your students (or anyone) about the presentation. That conversation happens asynchronously (think Discussion Forum) but people can comment on a page of the presentation using video, audio, or text.  Often faculty create presentations this way by commenting on each page themselves.
It is already integrated with your Google login ID for authentication.  You can use it as a standalone tool by going to http://wfu.voicethread.com/  or by going to the IS page for Voicethread for helpful support and then clicking on the gold VoiceThread button under Launch Service.  We have also integrated it with Sakai. You can add it as a tool to the left hand menu and it will create a group for your course and keep the VoiceThreads you use in your course organized and accessible to the right students.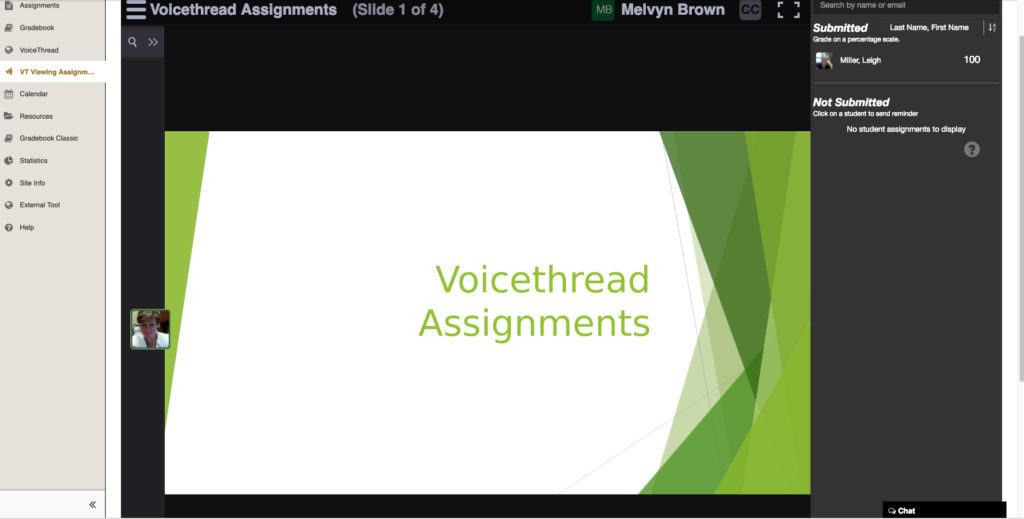 What is new is that we recently added a feature to that integration. You can now create VoiceThread based assignments in Sakai.  They can be added as their own left-hand menu button or as an item in a Lesson page, just like Sakai Assignments, Discussion Forums, or Quizzes.  There are three types of assignments.
View a VoiceThread – And this really means view! Opening every page and playing every comment is required. This type of assignment is autograded.

Comment on a VoiceThread – You can ask students to comment on a VoiceThread a specific number of times along with any other instructions.  The grading interface allows you to see all the posts by a given student and context (where in the presentation) they were made. You grade these kinds of assignments.

Create a VoiceThread – You can ask each of your students to create a VoiceThread as a way of presenting something or telling a story.  They can use any of the commenting methods to narrate each page in the presentation. You grade these kind of assignments.
Whether an assignment is autograded or you enter a grade, it will create an item in the Sakai gradebook and send over the scores automatically. If you haven't used it before, give it a try!
Support resources:
Recent Posts
April 7, 2020

May 7, 2019

March 20, 2019