Multimedia Design for Learning
Designing media with learning outcomes in mind can be demanding. Richard Mayer and Roxana Moreno offer several strategies for developing learning experiences with cognitive load in mind in "Nine Ways to Reduce Cognitive Load in Multimedia Learning." In addition to cognitive load, another valuable consideration when designing instructional videos is student engagement. "How video production affects student engagement: An empirical study of MOOC videos" by Guo, Kim, & Rubin evaluates a large data set of online learners to make recommendation about video production design.
Teaching and Learning Services, RIT
Teaching and Learning Services (TLS)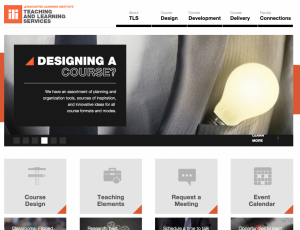 is a unit of the Innovative Learning Institute (ILI) at Rochester Institute of Technology. Their goal is to further faculty teaching effectiveness and student learning, and their website includes a variety of resources in support of course design, development, and delivery.
Online Education Office Library
We're regularly updating our collection of books addressing instruction across modalities. In addition to our own collection, we make an effort to keep a list of relevant titles available to you at ZSR as well. Take a look at our resources online, and let us know if you want to borrow something. If you're unsure about where to begin, let us know what you're investigating, and we'll be happy to make a recommendation.
The Online Learning Consortium (OLC)
OLC is one of the largest organizations devoted to the development of online learning. For regular reflections on Blended and Online Learning, take a look at their blog. Further, you can let us know if you're interested in attending one of their annual conferences, and we'll see if we can arrange support for you to do so.