German Masterworks in Translation: Monstrosity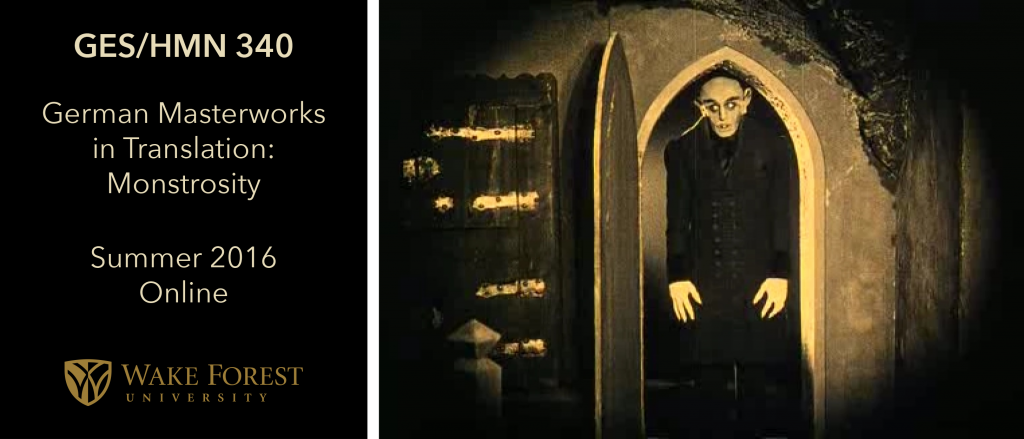 Humanities Division II Credit
GES/HMN 340: This course, taught in English, will provide an in-depth analysis of monsters and the undead in medieval and modern discourse of the German speaking countries. We will analyze the literary representations of "monsters" and the monstrous as artistic and literary metaphors of otherness: assessing the role, function, and consequences of literary creations, actions, or events identified as "monstrous." The course will investigate the limitations of the acceptance and (mis)understanding of the Other, as well as its literary and visual representations.
View a video introduction to this course
By the end of the summer, you will:
Have an overview of seminal works of literature and film of the German speaking countries.
Have an overview of critical theory to analyze literature and film.
Learn to interpret these materials through your own research and use of critical theories discussed in class.
Discuss the meaning of "otherness" and "monstrosity" in line with gender, race, and ideological discourses. The marginalized status of monsters in literature and other media illuminates how cultures deal with the dichotomy of the acceptable or orderly and the influence of the liminal.
Have acquired analytical and critical thinking skills to assess the background and importance of monstrosity as a pervasive element in human society and give you the tools to evaluate and engage with medieval and modern materials in a meaningful way.
GES/HMN 340 German Masterworks in Translation
Monstrosity in German Literature and Film
Taught in English. Summer 2016 Sessions I-II (10 weeks)